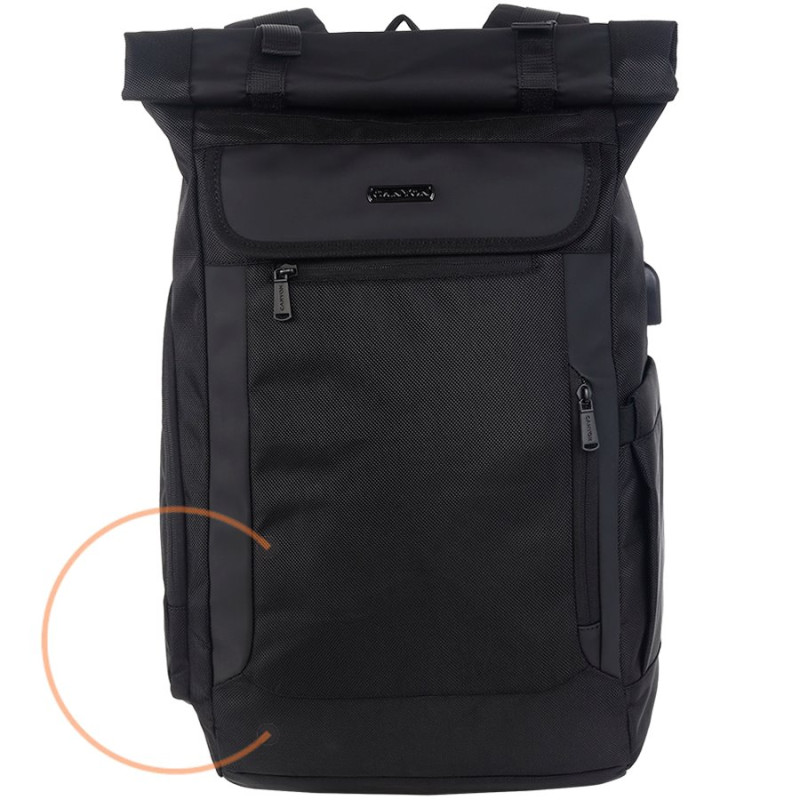  
CANYON RT-7, Laptop backpack for 17.3 inch, Product spec/size
CANYON RT-7, Laptop backpack for 17.3 inch, Product spec/size(mm): 470MM(+200MM) x300MM x 130MM, Black, EXTERIOR materials:100% Polyester, Inner materials:100% Polyester, max weight (KGS):
CANYON rolltop backpack for 17.3? laptops RT-7
Ladies and gentlemen, Canyon RT-7! This is a beast of a backpack: it's a rolltop, and it's made to fit 17-inch laptops. In fact, all your stuff will fit – the rolltop design allows you to increase the volume by a staggering 11 liters. But wait, there's more! It is built with waterproof materials and has a ventilated back. We also added a USB-A port in case you need to charge something, and there's a reflective element for extra safety. This backpack is asking you to put it to the test in your next adventure! Comfort above expectations. The rolltop design allows you to increase the volume from 18 to 29 liters. There's a ventilated back panel to keep you cool during long walks and also a USB-A charging port for your devices. Safety for your belongings. The internal sleeve that fits a 17.3? laptop will keep it safe and sound. The material we used for the outer shell is waterproof, with a reflective element to keep you out of danger. Smart organization for your everyday essentials. This backpack has four outside pockets and two internal ones, so you can keep your things sorted. A laptop sleeve and the rolltop design will help you fit some extra load.
Features:
Size (47+30) x 30 x 13 cm
For 17.3? laptops
18/29l changeable capacity
4 outside pockets
2 internal pockets
Internal pocket for 17.3? Laptop
Modern design
Waterproof material
Changeable volume (rolltop)
Reflective element
Ventilated back
USB-A charging port
Trenutno nema recenzija korisnika.
16 drugi proizvodi u istoj kategoriji: